At ESPE Manufacturing Co., Inc. we provide precision slitting and shearing services for converting almost any non-metal material. We can reach into our vast inventory of insulating papers and plastics to supply you with quality materials on rolls from 0.10" to 48.0" in width. Alternatively, you can send us your flexible material, and we will return it to you converted per your specifications. Our processes are geared for high productivity and reduced waste, and with our powerful, high-speed slitting and shearing lines, we turn jobs around very quickly, and our pricing is very competitive.
On the shop floor, we use automated processes for slitting and winding. Our capabilities include a wide range of slitting methods, including razor, score, and shear slitting as well as baloney cutting, crush cutting, and others. Computer controls enable us to monitor blade sharpness, cutting forces, roll tension, cutting speed and other factors to achieve and maintain quality cuts to within very close tolerance limits. We process material up to .093" in thickness and supply rolls measuring up to 36.0" in diameter.
As a Master Distributor for ITW Formex®, we always have an ample inventory of electrical insulation materials such as Formex® GK, Statex®, and Nomex® on hand. We also stock a range of electrical grade fishpaper, commercial grade vulcanized fiber, and many other grades of plastics and papers. Just get in touch with us and we will supply you with a quote and have your custom roll sizes to you within a very short turnaround. We can also quickly accommodate rush orders for time-sensitive projects and with our excellent reputation for quality, you can be confident that your material will be up to your high standards. To learn more about our slitting and shearing capabilities or to submit an RFQ, contact us directly.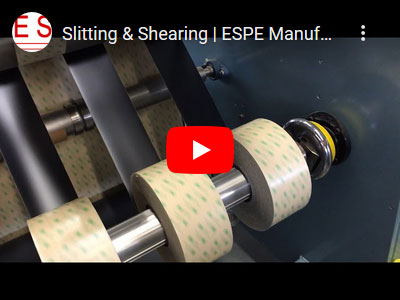 Capability Specifications
General Capabilities

Contract Manufacturing
High Speed
Large Format

On-Demand
Short Run
Slitting & Shearing Methods

Baloney
Crush Cutting
Duplex Center / Surface Rewinding
Duplex / Center Winding
Film Rewinding
Razor Slitting
Reverse Loop

Rotary
Score Slitting
Shear Slitting
Single Knife
Surface Winding
Zero Tension Slitting
Automation Capabilities

Computer Controlled Process
Materials (Primary)

ITW Formex GK
ITW Statex
ITW Formex

Fishpaper
Vulcanized Fibre
Nomex
Materials (Other)

Nylon
Copaco®
Kapton®
Teflon®
GPO-3
Forbon®
Polycarbonate
Acetal
Peerless®
Lexan®
Bakelite®
Kydex®
Polypropylene
Phenolic
Acrylic
Nylatron®
PVC

Plexiglass®
Ragpaper
Polyethylene
Glastic®
Rag/Mylar
Vinyl
Delrin®
Mylar®
Nylon MDS
Aramid Paper
PTFE
Acetate
Polystyrene
UHMW
Neoprene
ABS
Material Width

Max: 48"
Roll Diameter

Max: 36"
Slit Web Width

0.100" to 48"
Material Thickness / Gauge

.093"
Core Size

3", 6", 8", 12" (As per customer specification)
Tolerance (+/-)

As per customer specifications
Production Volume

Prototype
Low Volume
High Volume
Lead Times

5-10 Days
Quoted on job by job basis

Emergency services available
Rush Services Available
Additional Information
Industries Served

Aerospace
Agricultural
Architectural
Automotive
Dental Equipment
Electronic
Food

Machine Tool
Marine
Medical Equipment
Military / Defense
Oil Field
Packaging / Converting
Renewable Energy
Industry Standards

ANSI ‐ American National Standards Institute
ASTM ‐ American Society for Testing and Materials (Compliant)
CE ‐ The CE mark (officially CE marking) is a mandatory conformity mark on many products placed on the single market in the European Economic Area (EEA).
CSA ‐ Canadian Standards Association
ISO 9001:2008 ‐ International Organization for Standardization (Compliant)
RoHS ‐ Restriction Of Hazardous Substances (Compliant)
REACH ‐ Registration, Evaluation, Authorization and Restriction of Chemicals
Dodd-Frank
File Formats

AutoCAD (DWG, DWZ)
BMP ‐ Bit Mapped Graphics
DXF ‐ Drawing Interchange Format, or Drawing Exchange Format
GIF ‐ Graphics Interchange Format
IGES ‐ Initial Graphics Exchange Specification, ANSI file format.
JPG or JEPG ‐ Joint Photographic Experts Group
PDF ‐ Portable Document Format
SolidWorks (SLDPRT, SLDDRW, SLDDRT)
TIFF ‐ Tagged Image File Format