As a pioneer in the laser cutting field, ESPE Manufacturing Co., Inc. continues to lead the way in providing quality industrial laser cutting solutions for non-metal materials. We use the latest technology and equipment that adhere to our rigorous quality standards.
Laser cutting is a highly efficient, precise, and cost-effective way to cut plastics, electrical insulation materials, and other non-metals for use in a wide variety of industries, including:
Agriculture
Electronics
Medical devices
Aerospace
Military
Food and beverage processing
In our 30,000-square-foot facility, we use dual-axis cutting heads to achieve a high level of precision when performing even the most detailed, complex cuts. We work with parts as large as 50" long and 50" wide and with thicknesses ranging from 0.003" to 0.75". From your first inquiry to when we deliver the finished product, you can expect reliable customer service, quick turnaround times, reasonable prices, and high-quality laser-cut materials.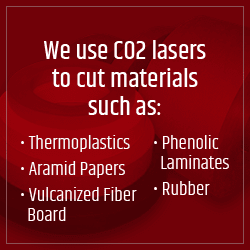 WHAT TO EXPECT WITH OUR INDUSTRIAL LASER CUTTING
We use CO2 lasers to cut materials such as:
Although CO2 lasers can cut through metal, they're more commonly used on non-metals such as those above. These lasers also perform high-quality engravings on hard materials.
In our facility, we use three different types of laser cutting to fulfill client requests:
· Flying optics lasers: For projects that require speed, accuracy, cleanliness, and versatility, flying optics lasers are a great choice. When performing flying optics laser cutting, automated processes hold the material in place and direct lasers to cut it on both the X and Y axes. Since the beam is always in motion, it's important to consider how its length will vary as it moves along the material. Appropriately managing these fluctuations allows us to achieve the precision that defines this laser cutting practice.
· Moving material lasers: In this configuration, the laser beam stands still while automated processes move the material to create the desired cuts. This process doesn't require as many optical components as other laser cutting procedures, and it also allows for a consistent and uniform standoff distance to be created between the workpiece and beam source.
· Hybrid lasers: With hybrid lasers, the laser usually moves along the Y axis while the material itself moves along the X axis—a process that brings together the best of flying optics and moving material laser cutting. Using hybrid laser cutting systems, manufacturers can achieve consistent beam delivery while reducing the amount of power used for cutting.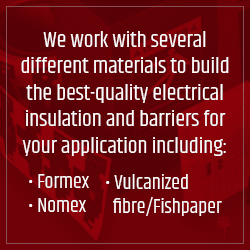 OUR LASER-CUT MATERIALS FOR ELECTRICAL INSULATION AND BARRIERS
We work with several different materials to build the best-quality electrical insulation and barriers for your application. Some material options include:
Formex: This flame-retardant insulation material comes in various thicknesses and is a popular choice for building LED lighting, major appliances, medical equipment, and cloud data centers because of its affordability and versatility.
Nomex: Available in thin rolls called paper and thick sheets called pressboard, Nomex is commonly used as flame-retardant insulation within electrical power production plants as well as in the aerospace, automotive, and marine industries
Vulcanized fiber: This commercial-grade fiber provides a lightweight insulation material that also possesses high mechanical strength, and it can resist extreme temperatures. Vulcanized fiber is commonly used in washers, cars, luggage, and gaskets.
Fishpaper: This electrical-grade vulcanized fiber is easy to form and appears in appliances, electrical insulation, circuit breakers, and fuse tubes.
We also can perform laser cutting on many other materials, such as:
Nylon
Polycarbonate
Teflon
Lexan
Polypropylene
PVC
Acrylic
Plexiglass
Mylar
Vinyl
Neoprene
ESPE MANUFACTURING: A (LASER) CUT ABOVE
ESPE Manufacturing Co. brings years of experience in laser cutting to produce high-quality products at affordable prices and within efficient lead times. If you're seeking more information about our products and services, or if you would like to request a quote, contact us today.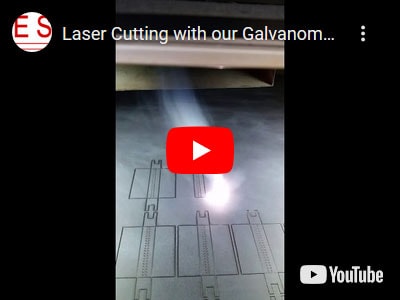 Capability Specifications
General Capabilities

Contract
Fabrication
Custom Manufacturing

Production
OEM ‐ Original Equipment Manufacture
Prototype
Laser Type

CO2 (Gaseous)
Laser Configuration

Flying Optics ‐ Flying optics lasers feature a stationary table and a cutting head (with a laser beam) that moves over the work piece in both of the horizontal dimensions. Flying-optics cutters keep the work piece stationary during processing and often don't require material clamping.
Hybrid ‐ Hybrid lasers provide a table which moves in one axis (usually the X-axis) and moves the head along the shorter (Y) axis. This results in a more constant beam delivery path length than a flying optic machine and may permit a simpler beam delivery system.
Moving Material ‐ Moving material lasers have a stationary cutting head and move the material under it.
Cutting Axis

2-Axis
Materials (Primary)

ITW Formex GK
ITW Statex
ITW Formex

Fishpaper
Vulcanized Fibre
Nomex
Materials (Other)

Nylon
Copaco®
Kapton®
Teflon®
GPO-3
Forbon®
Polycarbonate
Acetal
Peerless®
Lexan®
Bakelite®
Kydex®
Polypropylene
Phenolic
Acrylic
Nylatron®
PVC

Plexiglass®
Ragpaper
Polyethylene
Glastic®
Rag/Mylar
Vinyl
Delrin®
Mylar®
Nylon MDS
Aramid Paper
PTFE
Acetate
Polystyrene
UHMW
Neoprene
ABS
Cutting Thickness

Min: .003″
Max: .750″
Cutting Width

50″ x 50″
Tolerance

(+/-) .002″
Production Volume

Prototype
Low Volume
High Volume
Lead Times

5-10 Days
Quoted on job by job basis

Emergency services available
Rush Services Available
Additional Information
Industries Served

Aerospace
Agricultural
Architectural
Automotive
Dental Equipment
Electronic
Food

Machine Tool
Marine
Medical Equipment
Military / Defense
Oil Field
Packaging / Converting
Renewable Energy
Industry Standards

ANSI ‐ American National Standards Institute
ASTM ‐ American Society for Testing and Materials (Compliant)
CE ‐ The CE mark (officially CE marking) is a mandatory conformity mark on many products placed on the single market in the European Economic Area (EEA).
CSA ‐ Canadian Standards Association
ISO 9001:2008 ‐ International Organization for Standardization (Compliant)
RoHS ‐ Restriction Of Hazardous Substances (Compliant)
REACH ‐ Registration, Evaluation, Authorization and Restriction of Chemicals
Dodd-Frank
File Formats

AutoCAD (DWG,DWZ)
BMP ‐ Bit Mapped Graphics
DXF ‐ Drawing Interchange Format, or Drawing Exchange Format
GIF ‐ Graphics Interchange Format
IGES ‐ Initial Graphics Exchange Specification, ANSI file format.
JPG or JEPG ‐ Joint Photographic Experts Group
PDF ‐ Portable Document Format
SolidWorks (SLDPRT, SLDDRW, SLDDRT)
TIFF ‐ Tagged Image File Format