ESPE Manufacturing Co., Inc. is at the forefront of the production of electrical insulators, making us the premier choice for electrical insulation materials and fabricated plastic parts. We are proud to be a family-owned and operated company that offers the largest electrical insulation inventories in the Midwest.
Given our extensive list of capabilities, we can produce your custom non-metal parts quickly and economically while upholding the very highest standard of quality. We operate a large, 30,000-square-foot manufacturing facility housing state-of-the-art equipment and the latest technology for quality control. Our staff is knowledgeable and possesses a combo of expertise and skills, which guarantee that your parts are always manufactured accurately and to your specifications.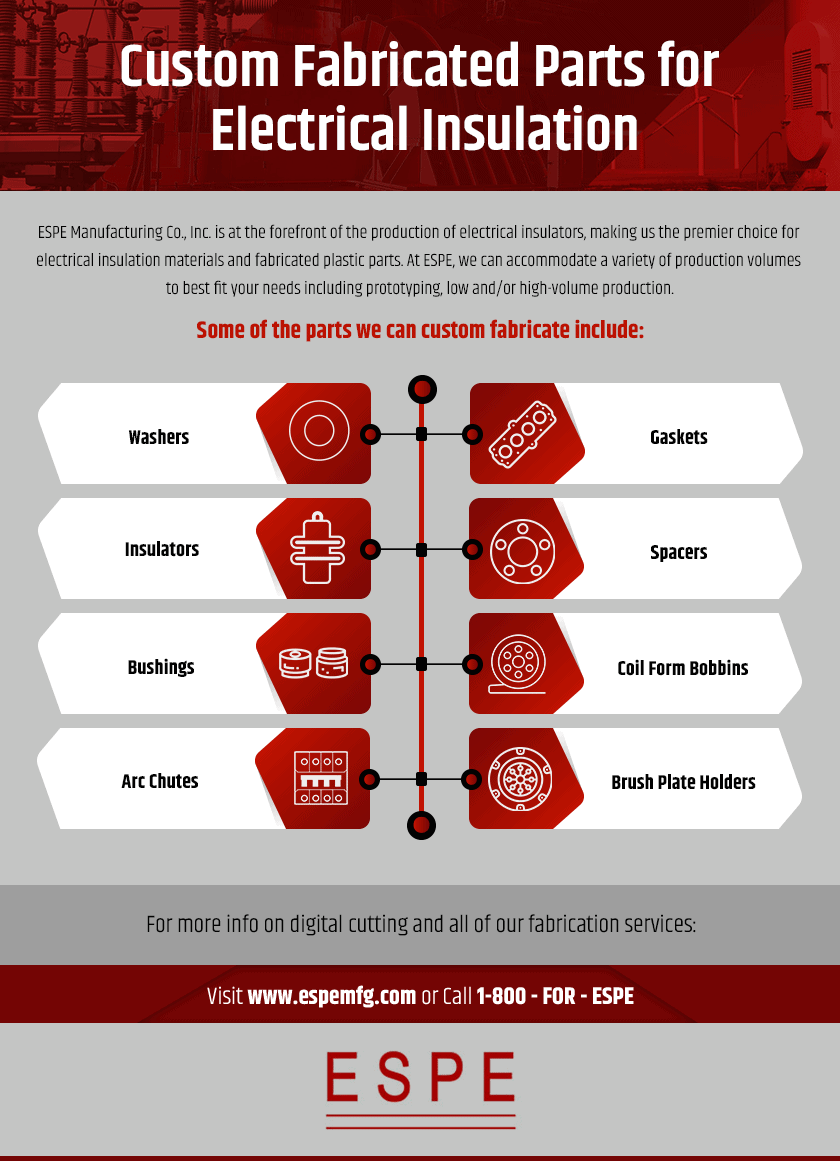 Fabrication Methods
We use a variety of fabrication methods to produce items. No specification is too complex for our production team. We're one of the most experienced and proven companies in the field of laser cutting, die cutting, and digital cutting of plastics for electrical insulators. With our fleet of hydraulic presses, we can stamp items to exacting tolerances. Our capabilities also include CNC turning and milling, as well as shearing and slitting.
At ESPE Manufacturing Co., Inc., we can accommodate a variety of production volumes to best fit your needs:
Prototyping. Prototyping is an essential step in most design and development processes. In the prototyping phase, an extremely low volume of parts is produced for real-world testing, ultimately saving time and money by identifying functionality issues or design flaws in advance of full production.  
Low volumes. Low-volume production typically involves runs ranging from 50-100,000 parts. Low-volume production offers several advantages including, cost-savings, faster time to the market, and design flexibility.  
High volumes. High-volume production refers to the mass production of products over short time periods, with volumes ranging from more than 100,000 to millions. Some advantages of high-volume production include a lower cost per unit, faster turnaround times, and economies of scale as volumes increase.
Some parts we produce include:
Spacers
Bushings
Coil form bobbins
Arc chutes
Brush plate holders
Hundreds of others!
Electrical Insulating Materials for Custom Manufacturing
Insulators are made from a variety of materials with different physical, mechanical, and chemical properties. Since all insulators are not the same, it is important to consider strength, flexibility, cost, and compliance with relevant codes when choosing the best electrical insulator for your application. Electrical insulating materials used in the fabrication process should have the following properties:
Good mechanical strength
Excellent dielectric strength
Superior resistivity to prevent the flow or leakage of electricity
Non-absorbent and free from impurities
Wide temperature range to avoid impacts of sudden temperature changes
ESPE Manufacturing is an industry-leading specialist with extensive knowledge of flame-retardant, electrically insulating materials. We'll assist in selecting materials that will provide superior shielding and thermal protection for industrial and consumer electronics.
The primary materials we work with include ITW Formex®, Nomex®, and fishpaper/vulcanized fiber. We also work with many other grades and types of plastics and papers.
Reach Out to the Experts at ESPE Manufacturing
With the variety of materials available for use as electrical insulators, it is important to partner with an experienced company that understands the various properties and capabilities of each material type. ESPE Manufacturing has over 70 years of experience producing electrical insulation materials and will help determine the best material for your application. Our team of experts is ready to serve your needs. Please contact us to see how we can help with your custom electrical insulator needs.
Custom Quotes
Select a product below to request a custom quote. We pride ourselves with quick quotations (usually within 24 hours or less!).
Capability Specifications
Product Name

Washers
Gasket
End Laminations
Insulators
Slot Wedges
Slot Cell Insulators
Bobbins ‐ Coilforms , Molded

Spacers
Bushing s
Arc Chutes
Shoulder Washers
Brush Plate Holders
Seals
Top Stick
Production Methods

Fabrication
Laser Cutting
Stamping
Die Cutting

Turning
Milling
Machining
Slitting / Shearing
Materials (Primary)

ITW Formex GK
ITW Statex
ITW Formex

Fishpaper
Vulcanized Fibre
Nomex
Materials (Other)

Nylon
Copaco®
Kapton®
Teflon®
GPO-3
Forbon®
Polycarbonate
Acetal
Peerless®
Lexan®
Bakelite®
Kydex®
Polypropylene
Phenolic
Acrylic
Nylatron®
PVC

Plexiglass®
Ragpaper
Polyethylene
Glastic®
Rag/Mylar
Vinyl
Delrin®
Mylar®
Nylon MDS
Aramid Paper
PTFE
Acetate
Polystyrene
UHMW
Neoprene
ABS
Inspection

Visual
Manual
Initial

In-process
Final
Production Volume

Prototype
Low Volume
High Volume
Lead Times

5-10 Days
Quoted on job by job basis

Emergency services available
Rush Services Available
Additional Information
Industries Served

Aerospace
Agricultural
Architectural
Automotive
Dental Equipment
Electronic
Food

Machine Tool
Marine
Medical Equipment
Military / Defense
Oil Field
Packaging / Converting
Renewable Energy
Industry Standards

ANSI ‐ American National Standards Institute
ASTM ‐ American Society for Testing and Materials (Compliant)
CE ‐ The CE mark (officially CE marking) is a mandatory conformity mark on many products placed on the single market in the European Economic Area (EEA).
CSA ‐ Canadian Standards Association
ISO 9001:2008 ‐ International Organization for Standardization (Compliant)
RoHS ‐ Restriction Of Hazardous Substances (Compliant)
REACH ‐ Registration, Evaluation, Authorization and Restriction of Chemicals
Dodd-Frank
File Formats

AutoCAD (DWG, DWZ)
BMP ‐ Bit Mapped Graphics
DXF ‐ Drawing Interchange Format, or Drawing Exchange Format
GIF ‐ Graphics Interchange Format
IGES ‐ Initial Graphics Exchange Specification, ANSI file format.
JPG or JEPG ‐ Joint Photographic Experts Group
PDF ‐ Portable Document Format
SolidWorks (SLDPRT, SLDDRW, SLDDRT)
TIFF ‐ Tagged Image File Format