Materials
ESPE Manufacturing stocks, distributes and fabricates non-metallic materials including: Formex, Formex GK, Statex, Vulcanized Fibre / Fishpaper and Nomex to name a few.
View
Custom Fabrication Services
ESPE Manufacturing Company, Inc. specializes in the fabrication and conversion of "non-metal" materials. From stamping washers to laser cutting intricate insulators and parts, ESPE will work for you!
View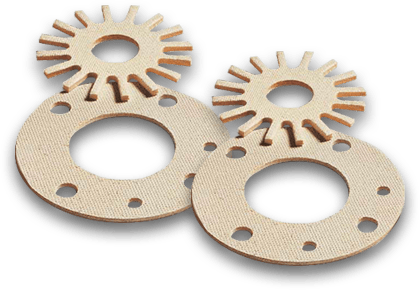 Custom Products
Whether prototyping an intricate part on our laser or running production quantities on our mechanical and hydraulic cutting presses, our experienced team can provide your custom parts quickly and economically.
View
Superior electrical insulation
in industrial and consumer electronic equipment
Markets We Serve
Computers and computer peripherals
Conventional and uninterruptible power supplies
Electrical and power distribution systems
Telecommunications equipment
Medical equipment
Automotive components
Consumer products
Lighting
And more
Custom Fabrication Services
Laser Cutting Plastics
Punching
Fabrication
Stamping
Die Cutting
Slitting
Shearing
Digital Die Cutting
Routing
Turning