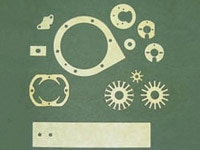 As a top Nomex supplier, ESPE Manufacturing Co., Inc. designs, fabricates, and distributes a full range of Nomex products including Nomex papers and Nomex pressboards. Nomex-brand products incorporate meta-aramid polymers to offer excellent electrical insulation along with chemical, thermal, and radiation resistance, while also making your products stronger and more durable with its unique, heat-resistant synthetic fibers.
Used since the 1960s, Nomex comes in two basic forms: in rolls of thin gauge material called paper and in sheets of medium or thick gauge material called pressboard. We customize Nomex types and thicknesses to serve the vast field of applications requiring superior lightweight insulation materials.
Due to its distinctive properties, Nomex appears in a variety of applications across industries including:
Aerospace and marine:
Forming honeycomb composites with materials such as Kevlar, Nomex helps aerospace and marine projects achieve lightweight craft structural rigidity in parts including doors, hulls, and wings.
Electrical power production: Due to its excellent dielectric strength and thermal properties, Nomex provides insulation in dry-type transformers and protects welders from arc flash. Wind turbines especially rely on Nomex-lined transformers for their ability to withstand adverse weather conditions.
Automotive: Automobiles rely on Nomex lining in heat shield padding and high-temperature tubing used in turbocharger applications.
Nomex Types Available
Nomex comes in a variety of forms that cater to a diverse array of applications. ESPE Manufacturing Co., Inc., stocks a full range of Nomex 410, Nomex 993, and Nomex 994 product lines, covering every type of Nomex paper and pressboard and serving your custom-manufactured fabricated parts needs.
Nomex 410
Nomex 410 comes in rolls with thicknesses of 0.002-0.03 in (0.05-0.76 mm) for a variety of specific gravities. As a calendered product, Nomex 410 offers increased flexibility, resilience, and mechanical toughness as well as high dielectric strength, and it's designed for applications including sheet insulation and electrical component manufacturing.
Nomex 993
Nomex 993 is a sheet pressboard material produced in thicknesses of 0.04-0.16 in (1.0-4.0 mm) for a variety of specific gravities. This material can maintain its overall shape and rigidity while conforming to small imperfections on the surface it's lining. Nomex 993 also seals well with contact surfaces.
Along with its high oil saturability properties, Nomex 993 performs well as a dielectric space barrier in both dry tape and fluid-filled transformer applications, and it also helps with manufacturing electric motor parts such as end laminations.
Nomex 994
Nomex 994 is a denser version of Nomex 993, and it's used in similar but more heavyweight applications. Nomex 994 comes in thicknesses of 0.04-0.380 in (1.0-9.6 mm), and when under compressive loads, it exhibits superior stability and can absorb oil and other fluids.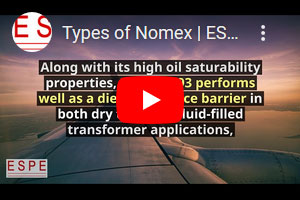 What can ESPE do for you?
With a complete stock of Nomex 410, Nomex 993, and Nomex 994 product lines available for distribution and part fabrication, ESPE Manufacturing Co., Inc., can handle all your Nomex needs. Using a variety of manufacturing techniques, we'll help you develop prototypes, manufacture customized and OEM parts, and fill low- and high-quantity orders.
Offering a full suite of laser cutting, die cutting, stamping, and slitting processes, ESPE Manufacturing Co., Inc., fabricates complex custom parts, upholds high levels of precision, and achieves low manufacturing tolerances. As your go-to source for Nomex rolls, sheets, and other products, we're ready to help you find the insulation solution to enhance your next product.
To discover how ESPE Manufacturing Co., Inc., can help you develop materials from prototypes to mass-producing custom orders, contact us and request a quote today.