ESPE Manufacturing has been a manufacturer of plastic parts and materials for electrical insulation since 1948. As a leader in the fabrication industry, we pride ourselves on using only the highest quality materials, including Formex, Nomex, and vulcanized fiber (fishpaper) to produce precision products for a wide range of applications.
We are pleased to offer a wide selection of fabrication services, including digital cutting services which employ the most advanced technology on the market today.
What is Digital Cutting?
Digital cutting is a fabrication process similar to die cutting in that the part is cut from a flat base material. Rather than using a pre-cut die, however, digital cutting uses a variety of cutting and punching tools to shape the material based on a computer-generated design. Instead of prefabricating a die to a specific shape, digital cutting allows you to create a variety of shapes and sizes using the same tools.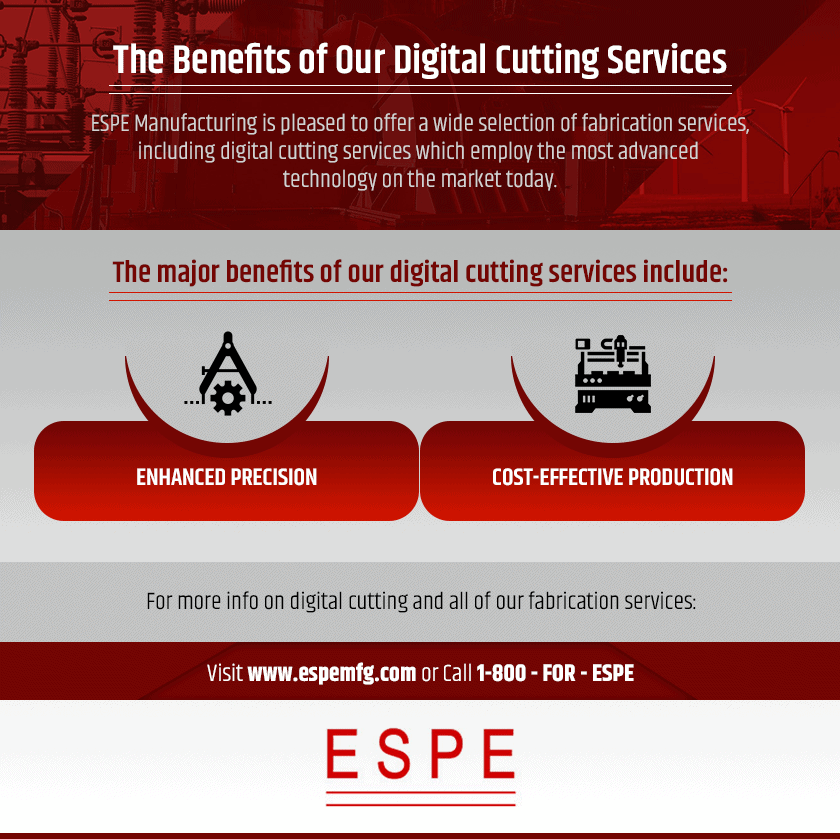 Benefits of Digital Cutting
As a manufacturing tool, digital cutting offers two particular advantages over other plastic fabrication methods:
Enhanced precision. Digital cutting is based on computerized design, which ensures greater precision and fewer errors in the manufacturing process. In addition, digital cutting makes it easier to produce parts with fine detail to rigorous specifications, with a much lower margin of error.
Cost-effective production. With digital cutting, you do not have to create a specific die for each shape, which saves significantly on time and materials. The process is easily automated and requires less labor than other cutting and shaping processes. Additionally, more than one shape can be created from a single sheet of material. This enables manufacturers to optimize the entire sheet, which significantly reduces material waste.
With the most recent digital cutting technology, we can guarantee the highest quality manufactured parts at competitive prices. In order to produce the finest digital-cut products, ESPE operates a top-of-the-line Zünd brand digital cutter.
Digital Cutting with the Zünd G3 M-2500
At ESPE, we are pleased to use the best quality Zünd digital cutter for a wide variety of precision cutting needs. The Zünd cutter enhances our fabrication capabilities through the use of state-of-the-art software and cutting-edge machinery.
The software is fully integrated into the workflow to assist the user throughout the manufacturing cycle, providing a smooth and efficient process. With this innovative technology, we are able to manufacture parts to highly detailed specifications with low overhead cost.
Material Specifications
The Zünd cutter includes a detailed material database that outlines the ideal cutting parameters for every material. With this information already integrated into the system, it is no longer necessary to individually calculate and calibrate the cutting parameters to ensure the perfect cut based on material selection.
Improved Efficiency
Since the cutting equipment in the Zünd is computerized and fully automated, manual adjustments are no longer needed, saving on labor and reducing potential errors. Software integration ensures highly detailed precision and quick production.
The modular design of the Zünd digital cutter facilitates quick tool changes, so it is easy to update production requirements. The easy transition saves both time and money—savings we can pass on to our customers.
Industrial Use and Productivity
Our Zünd G3 M-2500 has a sizable 1330 x 2500 mm cutting table with a vacuum material hold-down, and can quickly and efficiently process materials up to 110 mm thick. The large material base and automated operations make it ideal for industrial use in the production of both large and small batches. What's more, the cutter uses durable parts specifically designed for high usage, so production can run 24/7 without pause to facilitate faster turnarounds.
ESPE Manufacturing Digital Cutting Services
ESPE Manufacturing is pleased to provide superior digital cutting services at competitive prices. Our knowledgeable specialists are eager to assist you with any project, from the beginning of the process to the finished product.
For more information about our digital cutting services, contact us today.